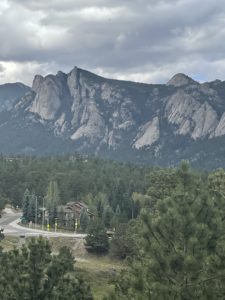 For my 60th birthday, my family gifted me a week-long trip to the mountains of Colorado, including several days in the town of my namesake, Loveland.  This is something I've talked about for years, so it truly was a "bucket list" trip of a lifetime.  It was such a blessing!
As with most of us, I've been extremely busy lately, so I very much needed a vacation, a time to relax and rejuvenate.  However, for me, the process of traveling can be very stressful — there are the crowds, the time pressures, the expense, and any number of unforeseen obstacles.  But, it is precisely these types of challenges which offer the greatest opportunities for spiritual growth!  I jokingly refer to such events as "getting OFF" (of the roller coaster), where "OFF" = Opportunities For Forgiveness!  
What do I have to forgive?  Mostly my own impatience and judgment … when my buttons are pushed by family members' attitudes, the difficult needs and unrealistic expectations of a two-year old, and large crowds filled with people just as stressed as me.  And, while on such trips, we tend to fill every day with agendas of site-seeing and new experiences, so we leave little, if any, time for meditation and uninterrupted connection with Spirit.  This, then, was the perfect opportunity to practice my on-the-go and out-and-about skills at seeing everyone and everything as expressions of Source, brought to me (by me) for my own soul's advancement.
While preparing for the trip, I asked my guides for guidance and received via a channeling session that I should constantly remind myself of the love behind the trip.  My daughter planned and made the arrangements for the entire affair, investing so much time and effort, not to mention the considerable financial expense, and my wife and son gladly joined in.  How could I not be touched by their personal and financial sacrifice?! 
With this constantly on my mind and in my heart, Spirit made sure I had plenty of "mini-miracles" to witness.  I had previously asked my star-family to show me evidence of their presence, and I was not disappointed.  On the first full day in Loveland, I saw a glint of light in the afternoon sky (looking west toward the mountains) and as I focused my attention on it, it flashed brightly (as if it was reflecting the setting sun … but the afternoon sun was behind it, so that couldn't have been it)!  Ask and ye shall receive!
I also witnessed my son-in-law, who has not ever shown himself to be spiritually minded, show several acts of spontaneous thoughtfulness.  He found a phone in a parking lot at a park where we went on a hike, and while dutifully searching for a way to contact the owner, she drove up, frantic that she had lost her phone … and, as karma would have it, she happened to be the kind woman who graciously agreed to take our group photo while on the hike.  And then, to top that, on the final day on the way back to the airport, he delivered our leftover drinks and snack food packages that we had accumulated over the week to a homeless camp a few blocks from the hotel.  I wish I could take credit for suggesting either act of kindness, but I did nothing but witness love in action!
Of course, everyday was filled with witnessing the beauty of Gaia's handiwork.  One cannot help but be filled with awe when looking at the stunning beauty of the majestic Rocky Mountains or the vast expanse of the plains from the Front Range.  And I was continually amazed that the sky is such a deeper blue at that elevation.  Being a sailor, I am a particular fan of open expanses of water, but I have to admit that the mountains are a close second!
As I said at the beginning, I am truly blessed, and even more so now that I'm home and have such a beautiful memory!  Loveland really is a place dedicated to Love — it's their marketing theme — and it did not disappoint!
I wish you all the same love of family, love of nature, and love of life … wherever you may find it!
 — Rob Loveland